There is a stigma that yoga is for girls, skinny flexible ones at that. But, men need yoga just as much and actually yoga was originally practiced solely by men. Yoga provides better flexibility (something that many men struggle with), improves preformance in other sports and reduces the risk of injury.
According to Men's Fitness Magazine and US News, yoga...
1. Improves digestion and reduces food cravings.
2. Boost creativity and brain functioning, as well as focus.
3. Increases the quality and the quantity of sexual intimacy (yes, a great little secret).
4. Improves your quality of sleep.
5. Produces a natural high (another great secret) by causing your pituitary gland to release oxytocin, which is also known at the "love" or "cuddle hormone."
Over my many years of teaching yoga, I have had a handful of men in my classes. Some were pleasantly shocked at how much they enjoyed the experience since they had never practiced yoga before and were hesitant to first get started. While my experienced guys knew exactly what they were in for and were pleased, as well. In an effort to break down the dirty little secrets of yoga and the walls that seem to prevent men from coming to class, I decided to reach out to a variety of male friends worldwide and interview them.
Frits Johanson, Professional Dancer from Norway
Frits began his yoga journey because it was a large part of his kung fu training. "To me the asana part of yoga is the part that comes most naturally, partly because it is very easy to combine with other types of training like my gymnastics and dancing. There are unlimited numbers of asanas and variations that I can work on and toward, keeping the practice challenging. The more I learned about focus, body alignment and positioning, and the connection between mental and physical, the more I could notice it helping with other trainings, as well. In short, the asanas are a great way to keep both strong and flexible alone or in combination with other sports."
John Fortin (www.supdog.ca), Professional Skier & Yoga Instructor from Canada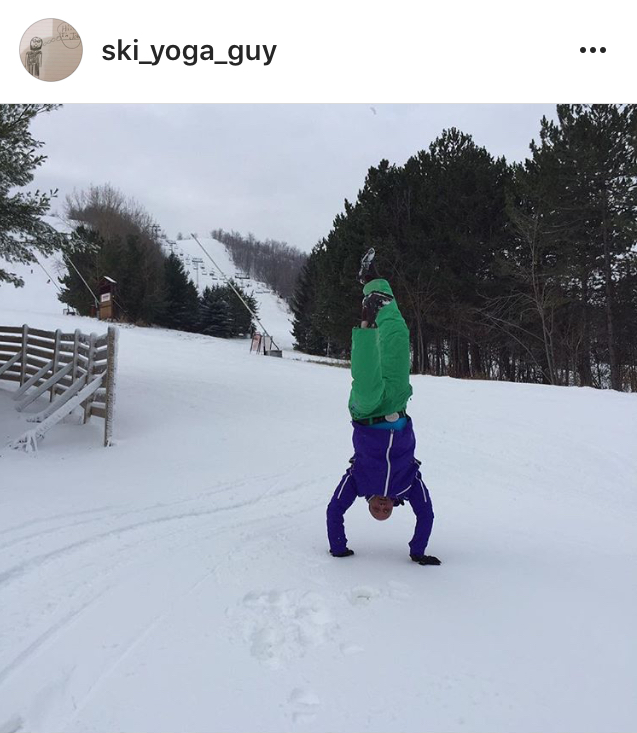 John started his yoga practice to compliment his training for other sports, but specifically for Ironman competition. He felt the physical benefits of the yoga practice immediately. Practicing yoga allowed him to shift to a new elevated level of performance. "The bigger benefit was the mental aspect of my practice. Within a short time I was able to shift frustrating or difficult moments in my training into opportunities to grow. My mind accepted the challenge in a way that allowed me to continue to push myself to new levels."
_____________________
As an instructor, I have heard many stories from my male friends of how they fully believe that they can benefit from yoga. Doctors who stand all day tell me they know that yoga can strengthen their legs and relieve backaches. People who drive all day tell me they know that yoga would relieve tension in the neck and shoulders. And people with high intensity or high stress jobs tell me they know that they need yoga, and yet something prevents them from coming to class. It is the fear of the unknown and many excuses (yes, you all know who you are).
So here is my personal advice on what you need to know for your first class:
1. Introduce yourself to the instructor. Tell him or her that it is your first class and let them know if you have any injuries or special requests.
2. Bring a hand towel. Yes, you might actually sweat in yoga ;)
3. Do not eat a heavy meal before class.
4. Wear normal workout clothes. I prefer dry wicking myself.
5. LEAVE YOUR EGO AT THE DOOR! This is a biggie for men especially. Yoga is very individual. Please do not compare yourself to or feel that you need to compete with anyone else. Do not push yourself too hard, especially on day one. Allow the flexibility to progress with each practice. Injuries occur when people try to compete rather than listen to their own bodies,
If you would rather hear it directly from a male stand point, here is advice from Frits and John:
1. Find a style of yoga that works for you. There are many different ones with different focuses. Perhaps you want something gentle and relaxing? Or, maybe you prefer a style that is more athletic. The great news is that yoga offers something for everyone.
2. Go to a class. Learn on your own through books and videos. Just get started! To really get that "yoga feeling," I would strongly recommend going to a class. Classes have a special energy that is motivating and the personal instruction of a certified yoga teacher will help you safely get started and grow in your practice. Later you can dive in deeper by reading and exploring other aspects of yoga on your own.
3. Try it out with a friend. Like many new activities, taking the first step to get started can be the hardest part. Having a friend with you to hold you accountable can be a great help, especially the first few times. And... you won't have to worry about being the only guy there if that is a concern!
4. Don't think about what you can't do. Saying I'm not flexible enough to do yoga is like saying I can't read well enough to learn to read. It is not a good reason to not get started.
5. Find the parts that work for you! For many people, joining a yoga class that starts off with 15 minutes of chanting can be a bit off-putting. If you want to do yoga to get in shape and become flexible, then find the class that suites you. But, I do recommend exploring the meditative and spiritual parts of yoga, as well. They might give you more than you think.
6. Get to class early and find a spot at the back where you can observe other students and how they are posing while you are learning.
7. Lastly, give it a try! Yoga is a great thing to work into your life! It has given me a lot, both physically and mentally. I recommend it for everybody no matter what shape they are in or where they are in life. It is something you can do for the rest of your life.
I have to say that Fritz and John shared some fantastic advice! I truly hope that you guys have found the inspiration in this post to get you started on your yoga journey. Grab a buddy, register for a class, and join us on the mat!
Yours truly,
Libby
P.S. - Stay tuned for my next blog about the fitness instructors at Breakthrough MSP (the fitness gym that is home to my yoga new studio) and learn how they can help you recover from injuries and setbacks to get you back into the activities you love! Also check out my Top Ten Reasons to Do Yoga if you haven't already.
P.S. P.S. - John also offers SUP-Surf-Yoga retreats in Nicaragua. If you are interested in SUP or SUP Yoga locally, I would be happy to take you out one on one or in organized small groups.